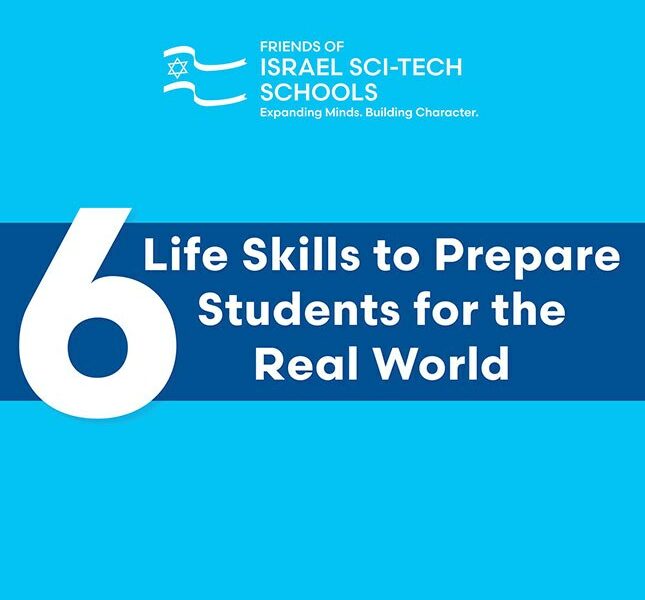 Teaching Life Skills Prepares Students for the Real World
By Friends of Israel Sci-Tech Schools
The blueprint for student success goes far beyond textbooks and tests. They need to be taught all-encompassing life skills: cross-cultural relationships, financial literacy, problem seeking and solving, time management, getting a job, how to be a mensch. The list goes on.
Preparing the next generation to thrive outside of school begins at school, where students spend most of their time. We view Israel Sci-Tech Schools as essential training grounds, teaching future-focused skills to help students navigate the real world after graduation.
As their staunchest supporters and biggest cheerleaders in America, we provide philanthropic resources to ensure Israel Sci-Tech Schools hit the mark. Below is just a snippet of some of the most important life skills being taught to young, entrepreneurial minds.
1. Cross-Cultural Relationships
So often, students interact with like-minded peers, limiting their understanding of the world around them. Students can only become more open-minded, empathetic human beings when they are exposed to different religions, cultures, languages, socioeconomic statuses, and gender identities. Diversity is a strength, not a weakness.
Israel Sci-Tech Schools champion spaces where students can have multicultural conversations and transformational relationships. Dozens of schools are enrolled in programming that promotes coexistence between Jewish and Arab students, helping to remove barriers through study groups, art workshops, discussion groups, and more.
Because diversity will continue to grow and should continue to grow, Israel Sci-Tech Schools are teaching students to embrace and celebrate differences. Those who learn the importance of multiculturalism as youth are more likely to flourish as adults.
2. Financial Literacy
How do you budget? What is a credit score? Why does investing matter?
Financial know-how is a necessary tool for charting independence and success. Israel Sci-Tech Schools addresses money management, consumerism, savings, and more in a financial literacy program, which has prepared 27,000 students for big and small monetary decisions. Teachers use lesson plans, presentations, instructional videos, interactive games, and apps to ensure graduates have an impressive arsenal of financial knowledge.
3. Problem Seeking and Solving
We create hack havens, encouraging imaginative thinking and unfiltered creativity. With so many great minds in the same room, students are able to pool their collective skills to identify problems and tackle them from different angles.
Recently, the Israel Sci-Tech School in Modi'in organized a hackathon, an all-day event where students in eighth through twelfth grade came together to improve their school. The participants, who were divided into groups led by twelfth graders, brainstormed and presented ideas for a social room, a music room, and a "green patrol" who is responsible for environmental stewardship on campus. Now, to make these ideas a reality, students are working with administration to create action plans.
4. Time Management
Time is a constant stressor for students, who are juggling academic classes and extracurricular activities. Of course, as they grow, their responsibilities grow.
Israel Sci-Tech Schools is committed to helping students overcome time-related challenges now. With a specialized learning program and curriculum, students learn to manage their time and mitigate their stress. The program provides each student with a personal time management profile to help them plan their days and various time management tools, including apps. Students are also taught how and when to accept assistance.
5. Getting a Job
Students already have a profession — in high school. Israel Sci-Tech Schools provides them with several opportunities to receive certifications from high-tech companies like Google, IBM, and Microsoft. Students graduate with specialized knowledge, ranging from search engine optimization to artificial intelligence, that will help them land them a job.
One of many portals to a career in the tech world is OpenValley, a company that helps students at Israel Sci-Tech Schools explore entrepreneurship. Available workspaces — equipped with 3-D printers, media and film studios, robotics labs, and power tools — prepare learners to become a part of the future workforce. They also have access to professionals as they brainstorm, create, and pitch business products.
6. How to be a Mensch
At Israel Sci-Tech School, students are not just studying and innovating. They are also learning how to be good people.
Weekly, more than 800 students visit the homes of 400-some Holocaust survivors, teaching them computer skills and helping them write up their personal stories of triumph. Other students are creating pockets of light for young cancer patients, playing games with them as they face challenging medical treatments. Some students are becoming environmental stewards, adopting green spaces to cultivate, clean, and repair them.
These volunteer and leadership opportunities represent a fraction of the full scope of signature projects at Israel Sci-Tech Schools. Social responsibility and communal contribution are key values, which students uphold through action.
Every day is a festival of learning, a new opportunity for students to stretch their minds. Israel Sci-Tech Schools is helping students break from the books and get out into the real world — early. More than 100,000 students have these life-changing opportunities because of supporters like you. When you invest in their future, you invest in a better and brighter Israel: israel-scitech-schools.com/donate.