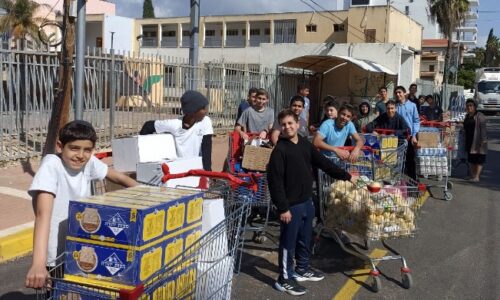 Each year before Passover, a special charity fundraiser is held throughout the Israel Sci-Tech Schools Network, in which money or food is collected from the residents in order to distribute to those in need before Passover. The holiday of Passover traditionally entails relatively high food costs. Every year the students of the Israel Sci-Tech Schools Network all over the country mobilize to collect donations for the benefit of food packages for needy families. In Sci-Tech Yehuda Afula, the students initiated a school-wide initiative. They managed to raise over $4,500 for the benefit of over 100 food boxes that were packed and distributed by them to needy families in the city.
This year, Passover coincides with the month of Ramadan in which Muslims celebrate the beginning of the path of Islam. The main mitzvah in Ramadan is fasting, which lasts for a period of 30 days – from dawn to sunset. The fast is broken at sunset with a prayer and a meal called "Iftar" when all family members gather together around one table. In Sci-Tech Halmi Sha'apei in Akko, the students led the collection of products for the purpose of packaging food kits for needy families of school students in preparation for the Ramadan fast.
To learn more about Israel Sci-Tech Schools, please visit https://www.israel-scitech-schools.com/.