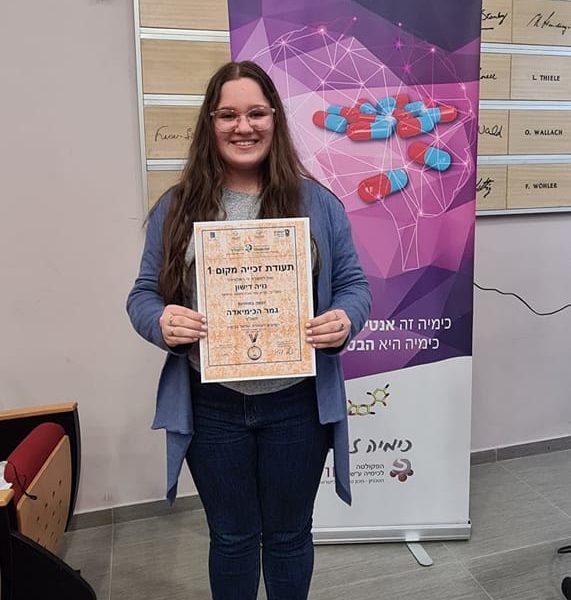 The National Chemistry Olympiad is held annually since 2000 to encourage the mass participation of students from around the country in the various stages of the competition and thus contribute to increasing awareness of the importance of chemistry studies; To bring students participating in the competition into the fields of chemistry research at high schools and at institutions of higher education in the country by creating curiosity and experience, as well as discovering outstanding talents, who will form the foundation of the Israeli team at the International Chemistry Olympiad.
In the first phase, a test is held in schools (this year online), which includes questions in various fields of chemistry. The top 10% at this stage are invited to attend the next stage. The second phase takes place over one day at the Technion, during which the students are examined. The exam at this stage contains questions about material that is not taught in school. About 30 outstanding students at this stage advance to the national finals. In the national final stage – which also takes place at the Technion, the examination consists of a theoretical part at a higher level than that of stage B. In addition, the students perform a laboratory test of an experiment according to a briefing. At the end of the process, which includes intensive training, the eight students who will be eligible to participate in the Israeli team for the International Olympics are selected.
This year, Noya Dishon, a 12th-grade student at Israel Sci-Tech Psagot School in Karmiel, won first place in the National Chemistry Olympiad and secured her place on the international team.
In 2021, Noya represented Israel with her chemistry team teammates at the 2021 International Mendeleev Chemistry Olympiad – IMChO International competition, in Hungary. The Mendeleev Olympics have been held for 55 years, and Israel joined the competition in 2016. The team's training is held at the Schulich Faculty of Chemistry at the Technion, led by Prof. Zeev Gross and head coach Dr. Izna Nigel-Ettinger.
To learn more about Israel Sci-Tech School's innovative education methodology, visit https://www.israel-scitech-schools.com/pioneering-models/