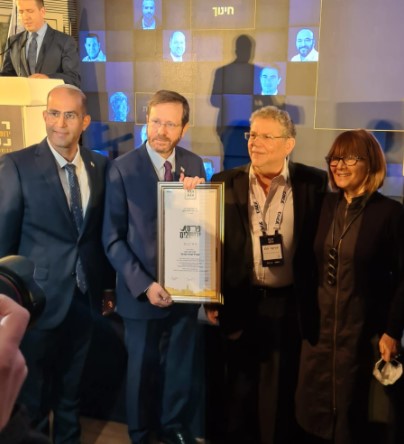 The Jerusalem Prize is an award given at the Jerusalem Conference, which has been held annually since 2004 by the newspaper Besheva and Channel 7. The conference provides a platform for discussions on current and value issues that are on the agenda in the religious community and in Israel in general. As part of the conference, its organizers present the Jerusalem Prize to individuals and organizations in various fields of action who have worked vigorously for society and the people of Israel during the year.
In an impressive ceremony that took place as part of the 19th Jerusalem Conference, attended by Government Ministers, Members of Knesset (Israel's parliament), and the Mayor of Jerusalem, Moshe Leon, this year the award was presented by Israel's President, Mr. Yitzhak Herzog, to 13 individuals and organizations who stood out for their significant work and contribution to Israel in various fields, and were elected at the end of a rigorous selection process.
The award committee presented the award to Zvika Peleg, CEO of the Israel Sci-Tech Schools Network for his commitment to promoting Israeli education through investments in STEM technology, innovation, cutting edge pedagogy and increasing opportunities for students to graduate schools with skills for real-world education.
Peleg shared: "Undoubtedly the crucial impact on my occupation is the care for at-risk youth, which has led me to believe that in every boy and girl lies the seed for growth and development, and it all depends on interpersonal communication, paying proper attention and sensitivity to each person's needs." He added: "As soon as I received the award, I think of my parents, whose whole focus was on promoting their children in education, and my family, who encouraged me in my pursuits and educational initiatives."
The members of the Network's board of directors and the heads of many municipalities in which the Network operates, congratulated Peleg and the Network on receiving the prestigious award. The director of the Jerusalem Conference, Dudi Finkler, joined in the congratulations: "The 13 winners of the Jerusalem Prize this year are an example of visionaries and deeds, those who raise a chicken in their thoughts and at the same time their hands are busy doing good for the land of Israel."
To learn more about Israel Sci-Tech School's innovative pedagogy, visit https://www.israel-scitech-schools.com/pioneering-models/