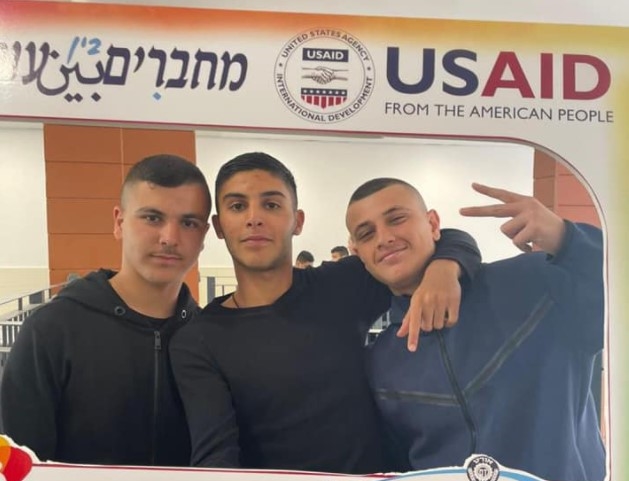 The Israel Sci-Tech Schools Network, which represents the full diversity of Israeli society, directs its activities to create an infrastructure for respectful multicultural discourse in Israeli society and a commitment to a shared life between Jews and Arabs. The Network operates programs to promote multicultural dialogue, through regular meetings between educational staff and students from Jewish and Arab schools online to remove barriers and prejudice between Jews and Arabs.
During the year, meetings and joint learning of the enrichment areas of mixed groups are held from Jewish and Arab schools. Arab and Jewish youth study together and work to promote values of tolerance and multicultural dialogue in the community.
With the outbreak of the coronavirus in March 2020, the closure of schools, students were asked to continue the dialogue and joint activity in bilingual mixed groups. They met in a virtual space and continued to study together. Much has been said about the distress that the new reality has created among students, but it seems that in the context of multicultural encounters, distance and virtual gatherings changed the rules of the game and made it easier to meet.
Pairs of schools in the Network have joined together and led joint activities. For example, students of Sci-Tech Hilmi Shafai School in Acre lead with Sci-Tech Psagot School students in Karmiel, a joint value activity to promote cohabitation. Another joint activity took place in Givat Haviva, where the students enjoyed various workshops guided by creative artists and prepared joint artistic creations.
Mahmoud Hajog, principal of Acre's Sci-Tech Hilmi Shafai School says, "We have been running programs for such meetings at the school for many years and are part of our school consciousness. We live in a mixed city and living together is part of our daily lives. It is important for us to be an example to the other localities in the country, even if they are not mixed communities… the common starting point is the most fundamental values in the relationship between man and person: mutual respect, tolerance, cooperation, and mutual help. As far as I'm concerned, it's not enough just to live together, you also have to know how to live together. The students in the program study together and do joint projects, that's what promotes those values… they improve their relationship, get to know each other a little more closely, and learn together from each other. Teenagers of this age share a lot of similar things and the program focuses on what is in common, what can be done together. In addition, they learn about the culture, heritage, and customs of both societies, which greatly contributes to a shared life. We are aware of the tolerance that prevails among our students and they now live in a moderate city where there is no sense of threat. There are a number of students who have told me that they had no Jewish friends before and here too I see a significant improvement."
Sci-Tech School students in Maalot Tarshiha also took part in joint activities. Bruria Alkoby, connector coordinator of the program said, "yesterday's meeting was one of the more special things that happened with us. everyone, literally everyone, has been harnessed. I asked some students to come and help us tidy up the place before the event. They've all arrived. absolutely all without exception. Everyone wanted to meet and chat. In the circles of discourse, it was fascinating, an Arab sister and a Jew from the city told of their joint work. The parents of the students also said that when they were young, they met all the time. There's a difficulty, I'm not saying we didn't and we gave it a place. It's important to me that when my students are adults, they'll understand what's important, and in difficult days of violence and incitement, they will remember the basic human aspect. which is to be their compass."
Sohail Mar'i, co-author of the program in Maalot Tarshiha adds: "It's a shame we didn't get to have more face-to-face meetings this year because we approached with every encounter… there's a very big desire of the students to get together and get to know each other a little bit more. It's also my dream: for students to be friends, even outside the framework we provide. We have two students, Nabil, who is a student of mine, and Daniel, a student in Ma'alot – who both play for a mixed basketball team in the city. It's part of our lives. It's something we have to do'.
Another meeting marked "we are all different but we are all equal", took place between the students of ort Sci-Tech Kiryat HaOmanim School in Ramla and the students of Sci-Tech Arab Comprehensive School in Ramla, which included three stations where the students communicated with each other and expressed attitudes, thoughts and worked together. The goal of the day was to bring the two groups of students from both schools closer together and deepen familiarity. At the stations, they were asked to write about balloons that they would take away from the meeting and kicked them out together; they designed an anonymous figure on a poster and incorporated messages into it, and finally created a fun and cohesive sporting activity.
To learn more about Israel Sci-Tech Schools' USAID funded Shared Society programming, please visit https://www.israel-scitech-schools.com/shared-society/.