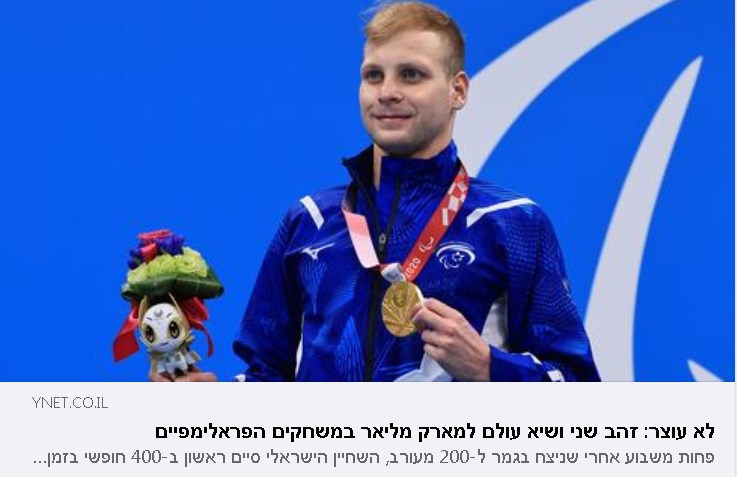 The Israeli swimming team for the Paralympic Games demonstrated tremendous achievements in Tokyo and was crowned as one of the best in the world. Swimmer, and a graduate of the Sci-Tech Kiryat Bialik Education Campus, Mark Maliar, broke the world record in the 200m individual medley final with the SM7 disability degree with 2: 29.01 minutes, and finished first in the 400m freestyle final with a 7-degree disability in a time of 4: 31.06 minutes, breaking his world record from two years ago (4: 33.64). He won two golds medal. In the last two years, Maliar has become a leading swimmer in the Israeli Paralympic swimming team and has burst into the international arena. Maliar, who swims in the S7 degree of disability, won two bronze medals at the 2017 World Championships, and in 2019, won silver and gold medals and even set world records.
Prime Minister Naftali Bennett tweeted about Maliar's wins: "Mark Maliar and Iyad Shelby – our world champions! On behalf of the entire State of Israel, I congratulate you on a tremendous achievement and two gold medals, and on breaking Maliar's world record(!). The Paralympic team is  the most exciting and inspiring team in the world, your wonderful achievements are just a bonus."
President Yitzhak Herzog even had a conversation with Maliar: "Mark, this is so exciting. Nothing can stop you. Both a gold medal and a blue-and-white world record. I wish your brother and your coach Yaakov Binanson medals later in the games. Congratulations! "
Another Israel Sci-Tech Schools graduate who stood out in the Games is rower Moran Samuel, a Sci-Tech Psagot Karmiel graduate, who won a second medal at the Paralympic Games. After a bronze in Rio 2016, Samuel upgraded with the silver medal in Tokyo, by finishing second in the 2,000 meters final in a single boat with a time of 11:18.39 minutes.