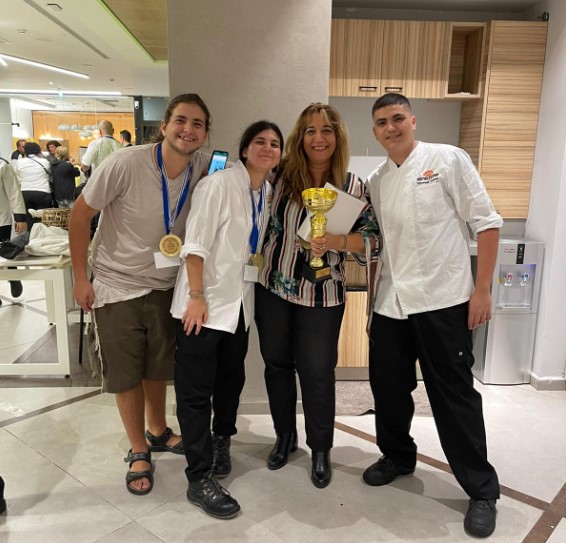 The Young Chef Competition is an international youth competition in which this year the most promising culinary students in Israel from five culinary schools supervised by the Vocational Training Division, which constitutes the culinary reserve in the catering industry in Israel, including the Israel Sci-Tech Dan Gourmet team in Tel Aviv. Chef Haifa and the Sci-Tech Dan Gourmet Team, trained with Chef Chai Levy since before the summer vacation. Members of the team include Verona Kashi, Liron Sknbski, Bezalel Jonah, and twelfth graders: Or Nomberg, Elyasaf Padida, and Yael Trittel.
The Israel Sci-Tech Dan Gourmet team competed against the teams from Hoshen High School, Amal Nazareth, Rimonim Culinary High School, and Sci-Tech Tzrifin School. The semi-final and final stages were conducted at a very high professional level, which required the team's thinking, creativity, and balanced tastes.
The team demonstrated excellence, advanced to the semi-finals, and won first place in a competition held in the presence of the Minister of Economy, Orna Barbivai; Germany's representative in Israel; Mayor of Haifa; Head of the Ministry of Labor, Nitzan Mamrod; and culinary supervisors, Raviv Schwartz, and Rafi Yefet.
School principal, Dovi Rakia said: "The event was signed with great joy with the understanding that Israel Sci-Tech Dan Gourmet students together with Chef Chai Levy did their best, invested tirelessly and their work paid off! The excited students" start packing for a flight to Germany ", will be enriching and delicious. Culinary studies provide professional tools for experiencing the present and an employment horizon for the future. "
To learn more about Israel Sci-Tech vocational training, please visit https://www.israel-scitech-schools.com/pioneering-models/sci-tech-colleges-and-vocational-training/.