The Wall Street Journal
By Melanie Grayce West
March 24, 2014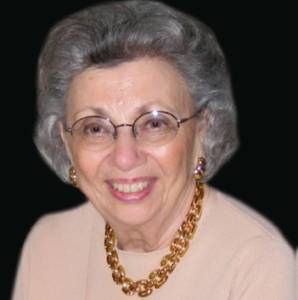 It was the late 1960s when Edith and Henry J. Everett began searching for an important project to support in Israel. They actively sought out something unattractive and needy.
The couple found their cause in a school in a remote area of northern Israel. Four decades later, Mrs. Everett, 85 years old, is still improving that school and others through an organization that operates as a kind of charter-school movement in Israel. She is the chairwoman of Friends of Israel Sci-Tech Schools, the American fundraising arm that supports the Sci-Tech Schools Network, a group of schools in Israel that specialize in high-tech and science education.
She has been a consistent supporter of the organization, most recently giving $500,000 over the last two to three years. Mrs. Everett is the head of her New York-based family foundation, which has assets of around $8.5 million.
She said that she and her husband, who passed away in 2004, didn't quite know what they were getting into when they took on the project of building a high school in Hatzor HaGlilit, a town in northern Israel. The town was very poor, with a mostly uneducated and illiterate population, said Mrs. Everett.
"Communities that are not central and don't have high-profile people tend to languish and, you know, that's true everywhere," said Mrs. Everett. "But, it didn't occur to us that it would be a problem in Israel!"
The school's first few years were rocky, said Mrs. Everett. "Teachers didn't want to settle in this god-awful place," she said. But in 1978, the Everetts enlisted the help of the organization now known as the Israel Sci-Tech School Network. The organization trained principals, teachers and developed labs. The school "became a whole different place," said Mrs. Everett.
The school—which now extends to the elementary grades and serves some 700 students—has transformed the community, Mrs. Everett said. But she admits she didn't fully understand the magnitude of need in this little town when she and her husband signed on for just a school. They have also funded student transportation, a library and a community center for the town—and college scholarships for graduates.
"More and more things" is how she describes her current involvement.
Mrs. Everett's interest in education stems back to her time as an elementary-school teacher, before she became a stockbroker in 1961. She is a graduate of Brooklyn College and Teacher's College. The late Mr. Everett was an investment manager who founded Lexington Associates.
She retired from Wall Street about six years ago and now devotes her time to family and philanthropy. The Everetts have a long history of giving in New York, including gifts for a children's garden at the New York Botanical Garden and support of Hillel. Mrs. Everett said she planned to spend her retirement in New York's museums, but her philanthropic projects "take a lot of time."
"If you want an organization to succeed," she said, "you have to spend time with it."