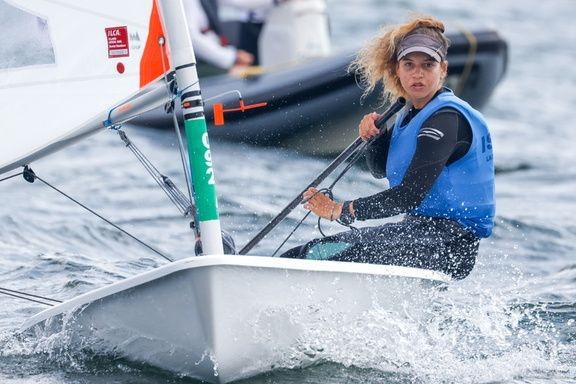 This is the success story of 16-year-old Maya Filink, an outstanding student and cruiser of the Israeli national team. A story that began with difficulties in adapting to middle school in one of the schools in Ashdod and became, after her move to the …Israel Sci-Tech Yami school in Ashdod, personal empowerment until she was called up to the Israeli team. At sea when I had no way to get there. " Mother Alejandra: "That the child finds his place he can fulfill dreams for himself. Easily Maya could have been lost and a pity." Now, she represents Israel in the world and dreams of the Olympics. And how Rachel Moore, Itai's mother ("Sabbita") Moore is also related to the story. The school year opened on Wednesday. Maya's story can be the story of any child.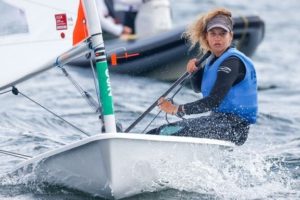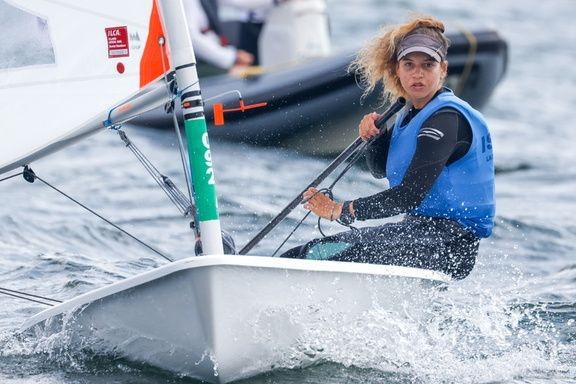 On Wednesday, when two and a half million students will walk to the school to open the new year, 16-year-old Maya Filinik, who is in the 11th grade at Israel Sci-Tech Yami School in Ashdod, will also march with them, where she is studying sailing. In a laser model cruise, it is exactly the example for which the children are sent to school, which will strengthen their abilities and allow them to realize themselves. Just like Maya who combines studies and sailing and success. But this is the end of the success story, which could easily have been different as well.
Maya and her family live in Ashdod. She is the youngest daughter among her six brothers and sisters. Maya loves the sea. From the age of 8, she has trained at the Ashdod Sailing Club. When she reached middle school age she moved to one of the high schools. But here difficulties arose that prevented her from realizing her dream – to be an outstanding cruiser and a member of the Israeli national team. Maya: "In 7th and 8th grade they had problems with going out for training. They were not allowed to go out, even though it was on a physical education class, and it hurt training and fitness."
Her mother, Alejandra: "I talked and tried to explain at school how important it is for her to go to training. In a regular school, they do not understand the importance. The sailing club also tried to help and changed the training so that it would be in front of physical education hours at the school, so that she could be released. In fact, she had to go from one sports class to another at sea, but they were not willing to cooperate."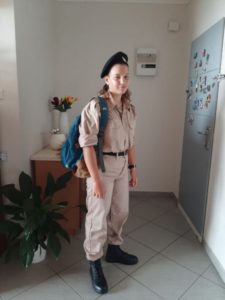 Maya in the uniform of Israel Sci-Tech Navy Marine School in Ashdod
This affected not only sailing but also studies. Maya did not want to give up her love and her professionalism at sea and wanted to combine with school, when it did not succeed it manifested itself in both places. But then there was a turn in the plot.
Maya heard that there is a marine school in Ashdod: "I did not know that there is such a thing in Ashdod and as I heard that there is and more here where I live, I immediately wanted to check if it is a good school and if it can be moved to. See how it works." Maya refers to the Israel Sci-Tech Navy Marine School in Ashdod, the Technological School for Naval Officers, which is a high school and post-secondary school that educates and prepares boys and girls for command and officer positions in the navy and merchant navy.
But she did not know the school and it is not easy to go through middle school age. The one who came to the family's aid was Rachel Moore, Itai's mother ("Sabavita"). Itai, z'l, loved the sea and took advantage of almost every spare moment to be there. Mother Alejandra: "At first we checked they did not get exactly all the information we wanted. So, I turned to Rachel Moore, whom I knew from work, and she told me she knew the school and it would suit Maya very well."
But Rachel was not content with that. She went out of school one Friday about two years ago and just asked the children about the school. Rachel heard from them that this was an excellent school. The children told her about the warm attitude towards the students and that it will suit Maya who competes in the sea and loves the sea and she will be able to combine it in her studies. Rachel hurried to the family and told what she heard. Maya made a decision.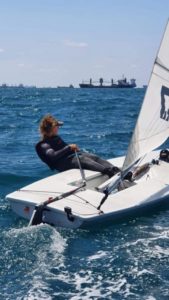 Dreaming of the Olympics.
Before she went up to the ninth grade, her parents, mother Alejandra and father Daniel, were impressed with Maya at Israel Sci-Tech Yami Ashdod School: Maya: "I loved what I saw, and I realized that this was the place for me. "If at the previous school I had problems with going to training, at the Israel Sci-Tech Navy Marine school they even took me to the marina on days when I had no way to get there."
From here, everything changed until the success and summons last June to the Israeli team. Maya: "I started to get more into training at sea and progressed a lot. Along with success at sea, where I improved, my grades also increased academically." Last June, she received the good news that she is on the team: "During the season there were 4 competitions. The first two boys and girls are on the team," Maya says. "Ginsor had the last competition and the results before it were very close. I finished third in the competition and overall, second in the country. I worked very hard throughout the season and achieved the goal."
Alejandra sums up for her what Maya and the family went through: "The way the school sees the child, when he accepts him as he is and gives him the place, the child will flourish. This is something we saw here at Sci-Tech Marine. Usually, factors do not cooperate. But in the case of the school and the help and push that the sailing club in Ashdod gives from a young age to Maya, managed by Asher Poppy with coach Roi Yahya and the supportive spirit of the Ashdod municipality, brought Maya to where she is today. That the child finds his place he can fulfill dreams for himself. Maya could easily have been lost and what a pity, that would have been. "
Now Maya represents Israel in the world. She went to competitions on behalf of the Israeli team in laser sailing. The first European Championship in Germany in July and the second in early August in Ireland.
What's next for Maya, what are the plans?
"To continue sailing with all my might. I am now ascending to another laser model that is a little more difficult. I hope to enter the team tests in this model as well, which is for Olympic competition."
Olympics? Maybe one day we'll see you at the Olympics?
"The Olympics are my dream."
One of the two best of her age. Maya at sea.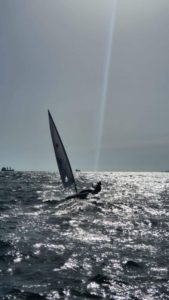 Courtesy of Ashdod Online Magazine, posted by Moshe Sidi, September 7, 2021.