Tel Aviv – Street Labs in Square and Malls 2014

Our Street Labs in Rabin Square and Israeli Malls
Minister of Science, Technology and Space, Yaakov Peri, asked Israel Sci-Tech Schools network to set up a tent in Tel Aviv's Rabin Square to launch Israel's National Science Week. We also set up "Street Labs" in malls. Hundreds of curious children and adults crowded into the venues to view and learn about the high-tech scientific engineering innovations of our advanced students. We aimed to inspire sci-tech education by showing it is fun and can lead to great careers.
If you were in Union Square in New York a year ago, it was déjà vu! We have done it in New York, now we were doing it on our home turf.
Minister Peri and long-standing corporate supporter of Israel Sci-Tech and Chairman of Israel's Bank HaPoalim, Mr. Yair Seroussi paid a visit to our buzzing stands.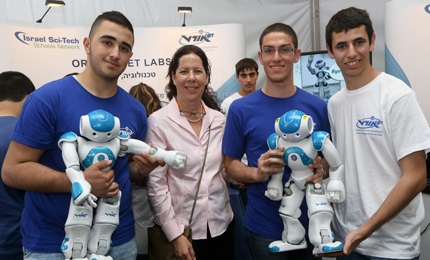 Young inventors-designers of the future put their robots on show.
Our large white tent in Tel Aviv's Rabin Square launched Israel's National Science Week at the request of Minister Yaakov Peri.
Our students were eager to demonstrate their inventions with Minister Yaacov Peri (L) and other visitors.
Israel Sci-Tech Board member Haim Krupsky (L), Director-General Zvi Peleg (C) and Chairman of Israel's Bank HaPoalim, Yair Seroussi visited our Street Labs at a Tel Aviv mall.
In a unique collaboration with our business partner, the Azrieli Malls Group, our Scientific Engineering students demonstrated just how exciting sci-tech education can be.