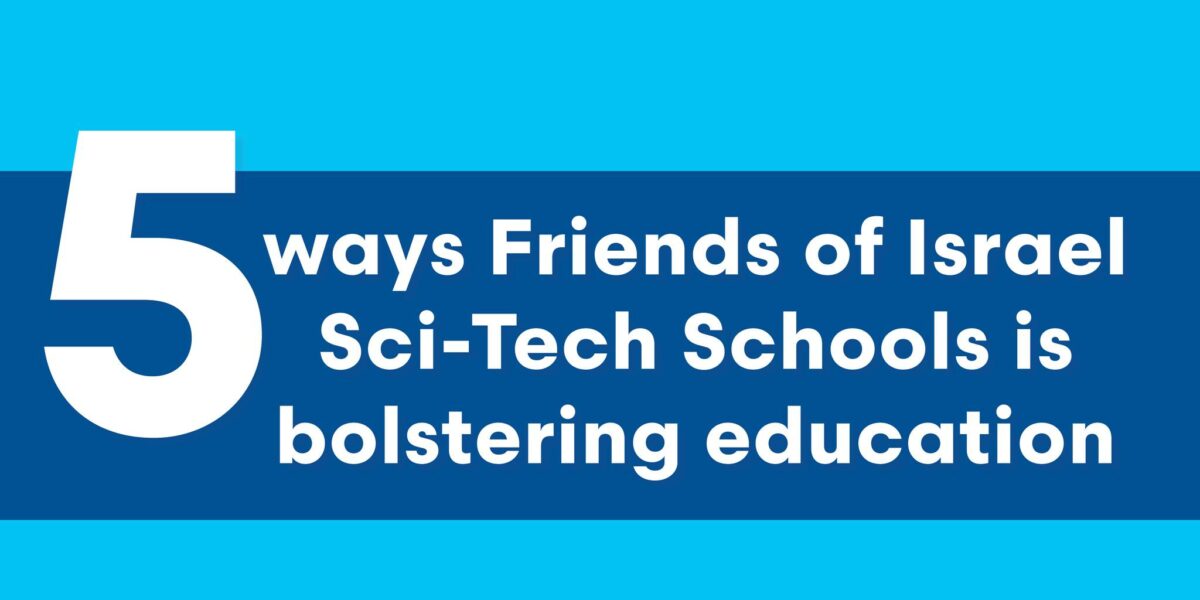 Israel Sci-Tech Schools has been reimagining education since 1949, creating spaces where entrepreneurial minds can soar. With more than 250 schools across Israel, these high-performing schools are a beacon of light for students on the social, economic, and geographic periphery. Every class presents an opportunity for more than 100,000 students — Jewish, Muslim, Christian, Israeli Arab, Bedouin, and Druze — to break free from the crush of low expectations and strive for better, brighter futures. 
We aspire to be the financial backbone of these cutting-edge schools, ensuring more students can kickstart their careers in technological and scientific fields. Our motivation: We know vibrant learning leads to vibrant minds. 
Every year, Friends of the Israel Sci-Tech Schools raises significant funds for Israel Sci-Tech Schools, a $600 million enterprise. With those dollars, schools renovate learning spaces (from classrooms to labs) and provide learning experiences (from artistic workshops to innovation centers). These new and improved opportunities enhance student success, and in turn, strengthen Israel.
Below are five ways our philanthropic resources are helping Israel Sci-Tech Schools make an impact on the ground today and tomorrow.
Out-of-the-Box Spaces
Israel Sci-Tech Schools believe in revamping the standard classroom framework — breaking from straight row chairs and top-down lectures. These educators know a technologically sophisticated environment encourages interactive learning. With our renovation funds, parts of existing school buildings are being transformed into large, open-plan, high-tech, and flexible spaces, complete with chairs and workstations on wheels. The renovations also extend to outdoor spaces, including rooftops and courtyards. At many of these schools, the roofs are used as botanical gardens, agricultural farms, and green energy complexes. School yards are used as scientific gardens, agricultural farms, outdoor classrooms, or work areas.

The fluidity of these indoor and outdoor spaces ensure students can easily move from leader-led learning to small-group brainstorming to project exploration. With this much-needed makeover, students are keeping pace with the rapidly evolving, high-tech ecosystem.

2. Real-World Experiences
Usually, teaching is limited to the classroom, but we know raw and real learning often happens organically and dynamically. So, we support the partnership between Israel Sci-Tech Schools and Open Valley, a tech start-up company that provides services to budding entrepreneurs in Israel. Open Valley offers yearlong group mentorship programs for students, giving them access to professionals as they brainstorm and create business products. The available workspaces — equipped with 3-D printers, media and film studios, robotics labs, and power tools — encourage learners to pursue more experiences that push them intellectually.

3. iSTEAM Leaders

Israel Sci-Tech Schools focus on "start-up education," a blend of innovative and creative ventures that are developed and implemented by students and externally evaluated by leading academic institutions. iSTEAM (innovation, science, technology, engineering, arts, and mathematics) brings the community and society into the classroom.
The students we support daily have a path to success: ideate to innovate to improve the world. They brainstorm and pilot start-up companies to address problems, such as the dwindling population of honey bees. Their iSTEAM project-based learning experiences are building self-confidence and leadership skills for the long haul.

Building Character



In addition to formal education, we help Israel Sci-Tech Schools provide opportunities that help students grow into upstanding adults.

One of those opportunities is OrTov, a national youth movement in Israel that helps schools implement programs on social values and character building. More than 60,000 teens are contributing to co-existence programming between Jews and Arabs, strengthening multigenerational bonds, raising awareness of the environment and sustainability, relieving the loneliness and isolation of Holocaust survivors, and combatting online hatred of Israel and the Jewish people.





With programs like OrTov, students are given the tools to become well-rounded, productive citizens who are committed to the betterment of themselves and society.


Innovation Centers
To meet the needs of young thinkers, we help Israel Sci-Tech Schools build innovative learning spaces with relevant and adapted pedagogy. These spaces are accessible during school and after school, giving each student an opportunity to experiment on their own time. We know a great idea can take shape outside of school hours. After all, entrepreneurial minds don't "turn off." The creative wheels keep on churning.
Education is the portal to the careers of the next half-century. We support Israel Sci-Tech Schools — the innovative and dynamic core of education — because tomorrow's workplace will be shaped by today's tools. Graduates are better prepared to access STEM-related careers, become high-tech leaders, and act in accordance with their values. We're confident that these students will grow up to catapult Israel's industry, future security, and economic growth.

To keep the educational wheels turning, these schools need strong supporters who are front and center and behind the scenes. Your investment will strengthen Israel Sci-Tech Schools for years to come, ensuring they can educate and inspire young entrepreneurs in Israel and around the world: israelscitechschools.com/donate.