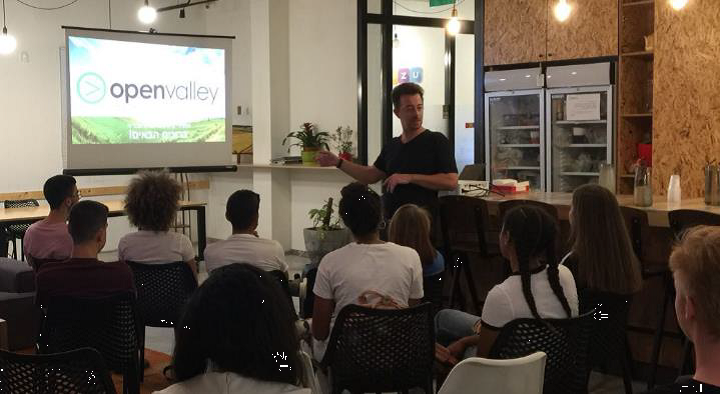 Encouraging business innovation and entrepreneurship among students
Rainmakers is a program set upon encouraging business innovation and entrepreneurship among students, based on cooperation between Sci-Tech Israel, OpenValley, and Beta. The goal is to prepare the upcoming generation of the State of Israel for the world of tomorrow and to empower them in the areas of entrepreneurship and innovation from the perspective of the community and the environment.
The program was designed and is delivered by experienced industry and hi-tech entrepreneurs, creative and marketing experts who focus on the practical aspects of entrepreneurship. The program includes seminars, lectures, meetings with entrepreneurs and hands-on activities.
As to now, three meetings have been held with Sci-tech schools in Tiberias, Karmiel, Migdal HaEmek, Yokneam and soon at Ma'alot-Tarshiha. At the third meeting with 11th-graders at Sci-Tech Tiberias, Yoav Guez, Manager of Beta Business Innovation and the program mentor, opened with this statement: "From now on, we are in the process of turning you into startup entrepreneurs, and the topic of today is choice." Afterwards, the students took part in a number of activities and a discussion that included video, presentations and the use of smartphones. "Think of an idea that interests you and – most importantly – a topic that excites you, with passion."
Regina, a student at Sci-Tech Tiberias, describes her experience: "Unique and cool . . . it gives us the means to think with motivation, different ways to observe, world views, points that we were unaware of or did not think of till now." Itiel, another student from Sci-Tech Tiberias, adds: "I am collecting information and maybe I will develop something using what I have learned here. I have gained general knowledge from the course, life lessons and the ability to think and develop – enterprisingly, technologically and business-wise.