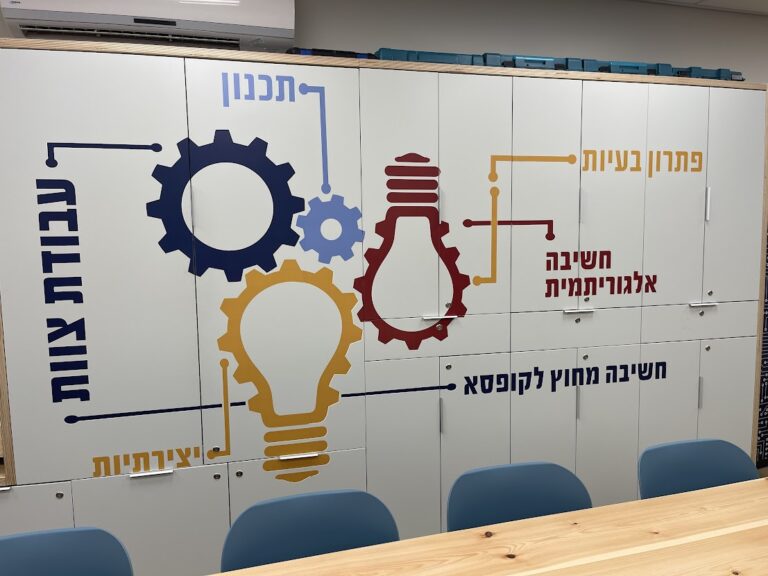 In recent years, the Israel Sci-Tech Schools Network has focused its educational work on developing innovative directions to improve the relevance of high schools. Dozens of new innovation and entrepreneurship centers were built and launched, as part of a revolution led by the Network in cooperation with the local authorities for the assimilation of pedagogical and educational innovation, which incorporates advanced technologies from the real world in learning and teaching. The goal is to make the schools innovative and adapted to a dynamic and changing reality so that there will be a significant educational journey to the real life that awaits the graduates.
By combining the forces of the Network's headquarters in the aspects of construction and infrastructure, technologies, education and operation, and professional development, significant actions are being carried out in the field to improve the quality of teaching and pedagogical practice, promote required skills such as entrepreneurship, creativity, and flexibility and position the image of the school in the community as an innovative and relevant educational institution. The Network invests many resources in dialogue with the schools, the leaders of the localities, and the community to create and adapt technological educational innovation that is adapted to the needs of the cities on the one hand and the uniqueness of each school on the other.
Each school in the Network has an educational framework with a voice and tone that sets it apart. Together with the school management teams and the teaching staff, processes are incorporated to identify needs and challenges, which sharpen and specify the uniqueness of the individual framework and advance the creation of applicable solutions. In cooperation with the local authorities, school staff, and school administrators, there is a constant process for promoting municipal pedagogy that matches the urban challenges, needs, and aspirations, such as creating an academic and professional horizon for students and a uniform local educational language.
The new innovation center was inaugurated against the background of the launch of the Future Ready program this year. This is an innovative program for educational leadership in a changing world, operating for its first year as a pilot in 16 selected Network schools including the school in Modi'in. The goal of this initiative is to help schools to reinvent themselves as institutions that are relevant and adapted to the real world.
The principal of the school invited the guests to watch and be impressed by a lesson taught by female engineering and mathematics students from the Massachusetts Institute of Technology MIT in Boston, USA for students of the iSTEAM program. The female students came for a month-long visit to the Network as part of the collaboration between the Network and MIT, in which the students mentor male and female students in iSTEAM technological projects.
To learn more about innovative Sci-Tech pedagogy, please visit https://www.israel-scitech-schools.com/.