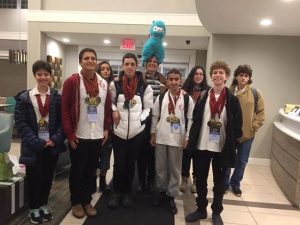 The World Scholar's Cup is an international tournament of academic debate comprised of teams of students. Today, competing teams come from over 50 countries, including Israel. The tournament aims to create an international community of future leaders, and to enable students to explore and develop their own personal strengths and skills. Another goal of this tournament is to bring together diverse students from diverse cultures for an inclusive discussion concerning subjects, issues and ideas which relate to their present as well as their future. The tournament consists of several stages: the first stage takes place in the students' country of residence. Winners of this stage move on to an international stage held in Europe. This stage elects the finalists, who are then invited to the Tournament of Champions held in Yale University.
The topics covered during the tournament are divided into several subject matters: Science (Memory), Economy (Black Market), Social Sciences, History, Music and Art, as well as this year's featured topic which was Social Media. The contest itself includes several events: a debate in trios, a general knowledge quiz for individuals and groups, and collaborative writing. The vast majority of contestants are native English speakers who hail from elite private schools.
Recently, the debate team representing Sci-Tech Kramim in Karmiel, nicknamed Karmikingdom, returned triumphantly from the Tournament of Champions in Yale University, laden with 18 silver medals and 14 gold medals. Overall results by competitions were:
Debate: 3 silver and 1 gold medals
Group knowledge quiz: 2 silver and 1 gold medals
Individual knowledge quiz: 13 silver and 11 gold medals
Writing: 1 silver medal
Eleventh-grader Sheli Sultanov won a group gold cup in debate, as well as three silver medals and two gold medals,
Sci-Tech Kramim's Debate and Scholarship Team has been active for five years now, in collaboration with Karmiel's Mada VaDa'at Center for High Achievers led by Mrs. Batia Tacker. The team includes students between 7th and 11th grades, mostly gifted students from the school's elite programmes.
The team's preparations for the contest include both collective and individual practice.  Throughout the year, the students receive tuition and support, both at school and in the Center for High Achievers, but most of the work is done at the students' own discretion and responsibility, mostly at home, individually or online – communicating through Skype and sharing documents, presentations and notes. Additionally, the team had a few weekend workshops in the Peki'in Youth Hostel. Team members include eight students from 8th- and 9th- grades – Gil Bohar, Yaheli Pomberg, Noam Ya'akobi, Rotem Egozi, Gili Ya'ar, Noam Zaks, Niv Yitzhaki, and Yasmin Kaplan Lubetkin – as well as 11th-grader Sheli Sultanov. This year the team had been led and conducted by 9th-grader Noam Zaks, who did a marvelous job and motivated his teammates to make an extra effort.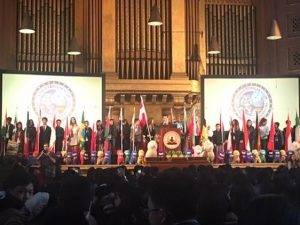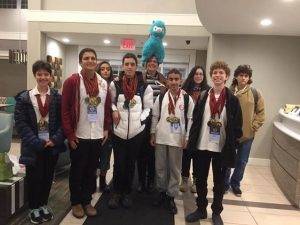 Mrs. Batia Tacker, the team's manager and delegation leader: "Undeniably, the trip to the US and the stay in Yale University are a once-in-a-lifetime experience. Our kids compete against the best scholars from all over the world, most of them native English speakers from elite private schools. The kids get to make new friendships and to get to know other people in a safe, inclusive atmosphere. For example, what other chance they may have to get to know children from Indonesia, Vietnam, Saudi Arabia, India, and so forth? In addition, the kids enjoy an opportunity to spend a significant amount of time away from their parents. They learn to fend for themselves, to deal with pressure, to count on their friends and to support each other around the clock. They have to make do with their allocated budget, and sometimes to cope with disappointments, which are obviously an integral part of life. I'm very proud of our students, I appreciate the progress they've made, and I commend them for their impressive achievements and the honor they brought to the state of Israel. I know this experience will stay with them for the rest of their lives."