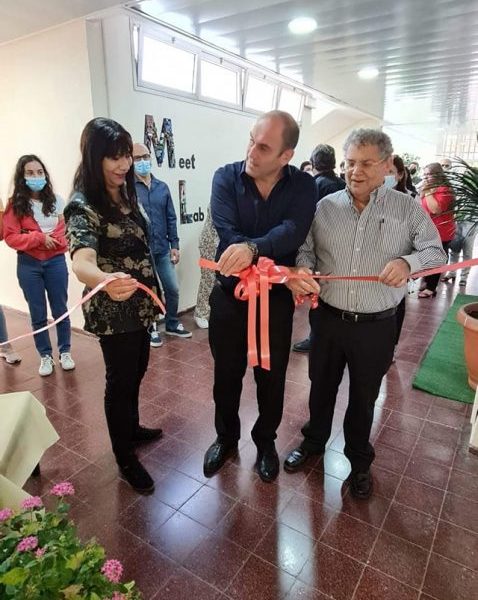 Israel Sci-Tech Schools Network CEO Zvika Peleg and Maalot Mayor, Arkady Pomerantz, inaugurate an Innovation and Entrepreneurship Center, a Makers space, and new sports facilities at Sci-Tech Maalot School.
The visit opened with a festive reception and a meeting with the school staff. The school's principal, Shulamit Alikan, presented the school's educational picture to the guests. In the comprehensive review of the school's activities, the principal referred to the pedagogical innovations, new educational programs, renovated infrastructure, hybrid learning environments, and future plans. The school has shown significant achievements over the years, with a steady increase in student achievements and matriculation results. A turning point in the school has been the adoption of a new pedagogical agenda relating to 21st Century skills. The school has many programs for building emotional resilience, including intervention programs of the holistic model, A groundbreaking model which defines innovation in the development and assimilation of mapping and accuracy of each student and school's educational environment, in which the student is at the center.
The school tour focused on innovative learning spaces and innovative pedagogy led by the school, during which the Makers Center, the new sports field, and the Innovation and Entrepreneurship Center were inaugurated. The subjects taught at the center allow for a combination of fields and subjects, which complements the learning in the students' homeroom. The center is adapted to the requirements of modern learning environments, where a teacher is not an exclusive source of knowledge but a mentor and will serve the school staff and students for project learning, teamwork, creative thinking, and entrepreneurship, similar to start-up and high-tech companies.
As part of the activities of the iSTEAM-project, the school maintains close contact with the Open Valley company to promote entrepreneurship and innovation, while mentoring the students in various projects, including the construction of valuable escape boxes for the community.
Israel Sci-Tech School's CEO, Zvika Peleg, was very impressed with the work, the educational spirit, and the school's achievements, as well as the spaces and learning environment and even promised to assist other schools in the city in implementing protected programs, student council activities, Sci-Tech Tarshiha middle school renovations, and other projects. "The world of tomorrow is built from the possibilities of including many areas into one work. Therefore, only changes in the world of education and innovative educational initiatives will make it possible to prepare the generation of tomorrow. Accordingly, the spaces of innovation which are multidisciplinary and interdisciplinary will help students grow into action that will lead them to success and excellence."
The Mayor of Maalot Tarshiha, Arkady Pomerantz, said: "I am pleased that the CEO of the Network agreed and adopted with both hands an idea that I presented to him. "The two groups of students. To show and present this successful model to students and other schools of the Israel Sci-Tech Schools Network throughout Israel."
To learn more about how the Israel Sci-Tech Schools Network supports excellence, please visit https://www.israel-scitech-schools.com/innovative-education/