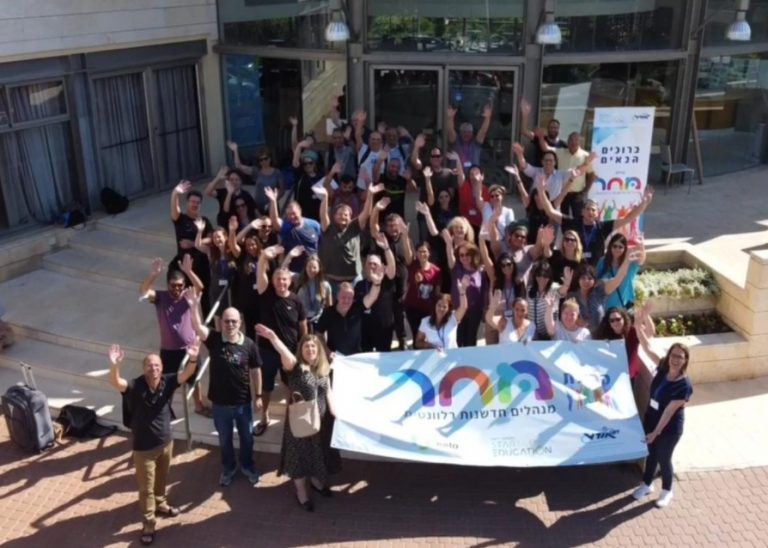 Management teams from 11 schools in the Network took part in a two-day hackathon on the subject of the school of tomorrow. The conference, which took place in Nir Etzion, was initiated and led by the Institute for Innovation in Education. The aim of the seminar was to create in a cohesive and participatory atmosphere, the community of tomorrow – conducting relevant innovation, which will lead innovative directions in schools, matching challenges for the coming school year.
On the first day of the seminar, an executive panel dealt with leading change as well as the ability to generate motivation to keep moving forward. By the end of the day, the groups presented 11 elevator pitch ideas to the Executive Board
Hatzor – "New Belongs" – The growth and empowerment of new teachers in the school
Arad "My Thing" – Teachers turn personal hobbies into a means of developing interests among students.
Singlovsky in Tel Aviv – "Another Certificate" – Development of a community of teachers learning for a different pedagogy.
Holon – Development of new pedagogy skills
Yehuda Afula – Increasing teachers' sense of belonging through dialogue with teachers, identifying strengths, and providing autonomy
Marom Acre – "Greenhouse for Fulfilling Dreams" – students come to their own business, utilizing the existing resources in the school. The school will provide them with business guidance, tools to believe in themselves, help them develop audience resilience skills, marketing in the world of tomorrow, and more.
Tel Nof – 21st-century skills development in preparation for life and career
Kiryat Omanim Academy of Arts and Sciences. The interdisciplinary connection will be given to the students' choice (for example, the Bible's connection to the arts), there will be a pilot two hours a week, and once a month there will be a meeting with artists.
Kiryat  Gat – Development of interdisciplinary teaching through connections between the subjects of geography, Bible, and integrated assessment
Yokneam – "Hakathon for the Sages" – led by the majors in Engineering, Chemistry, Biology, and Physics, every two years another scientific and technological trend will be added through collaborations between the majors.
Givat Ram in Jerusalem – 11 years of study in addition to the preparatory course, academy, and community connection, focused on society and the individual
Yoel Rothschild, VP, and Director of Research & Development & Training shared: "11 schools sprouting innovation have completed two experiential days of tomorrow's school development seminar. A well-organized and professional seminar, in an atmosphere of sharing and celebration, drives management teams in new directions in the coming school year. The journey to tomorrow continues."
To learn more about StartUp Education, visit https://www.israel-scitech-schools.com/startup-education/.