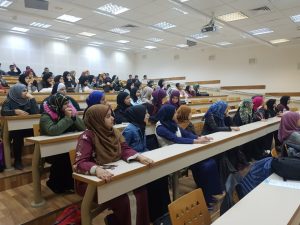 The ACCESS program for the advancement of English studies at the level of 4 and 5 units, which includes entrepreneurial and cultural activities to improve discourse and discussion skills, funded by the US Embassy in Israel, has supported activities for 15 years to strengthen English studies and familiarity with American culture, society, democracy, and history.
The first event was attended by schools from the north and center: Sci-Tech Ramla Comprehensive Arab School, Sci-Tech Ramla Artists School, and Sci-Tech Bustan El Marge School. The students experienced workshops in the field of American dance (hip hop and breakdance) and juggling, and participated in a joint dance together.
At Sci-Tech Afridar Ashkelon, the students conducted a graffiti activity on the subject of "thinking outside the box", in which they renovated the wall of the school cafeteria.
Circus workshops were held at Sci-Tech Abu Talul, Sci-Tech Abu Karinat, and Sci-Tech Kasifa (Al Farouk and Abu Rabia). The workshops include various challenges and teach students not to give up, but to keep trying. Students had to concentrate and focus, work together and collaborate to be successful.
To learn more about Israel Sci-Tech Schools pioneering educational initiatives, please visit https://www.israel-scitech-schools.com/startup-education/