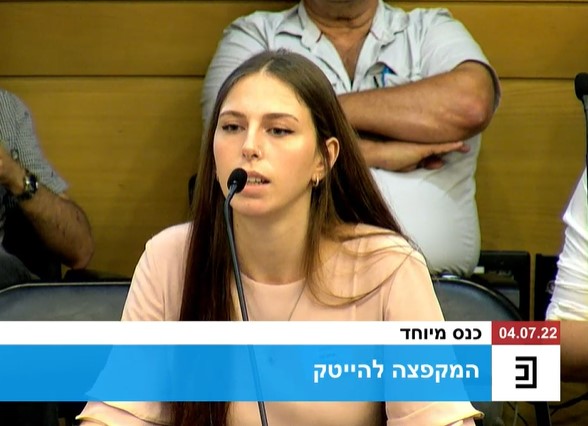 Angela Yarmakov, a graduate of the SpeedTech program at Singalovsky College, was invited to share her inspiring personal story at a special Knesset conference on accessing innovation and high-tech for young people in the periphery. The high-tech conference was moderated by the Minister of Agriculture, Alon Schuster, and was also attended by the Minister of Science and Technology, Orit Farkash HaCohen.
Angela's family, who lives in Ashdod, immigrated from Ukraine and experienced many ups and downs. At the end of her military service as an optics technician, she was debating what to do next. At the conference, she shared her story, and also explained the considerations in her choice to join the SpeedTech program of Singalovsky College. Immediately after graduating, she received job offers and entered the high-tech world.
The SpeedTech course is a relatively short course, during which one learns the basics of the software world, in order to integrate into leading companies in the economy upon graduation. The program is a program for training "full stack" software developers in the two specializations "WEB" and "CLOUD", which is a unique track with many partners. The curriculum was built in collaboration with the high-tech companies that partner with the venture and include two majors that have been identified as highly sought after on the technology front today. The duration of the studies is about a year, of which 8 months of intensive morning studies and four months of internship in one of the partner companies in the program. Nearly 100 percent of the students in the track integrate into the high-tech field upon graduation.
To learn more about Israel Sci-Tech Colleges, please visit https://www.israel-scitech-schools.com/pioneering-models/sci-tech-colleges-and-vocational-training/