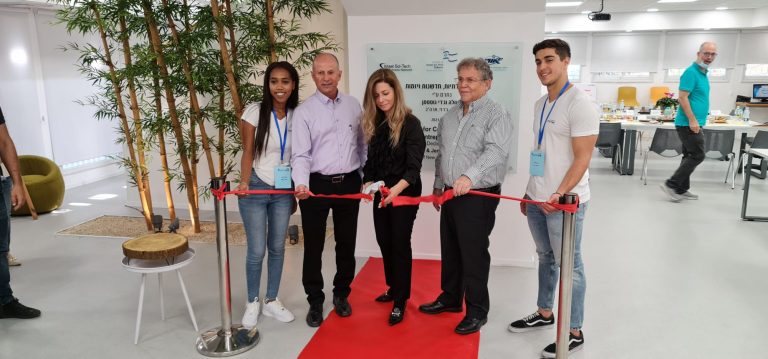 Friends of Israel Sci-Tech Schools Inaugurates Paula and Jerry Gottesman Family Foundation Center for Innovation and Entrepreneurship at Sci-Tech Oren School in Afula
Israel Sci-Tech Schools's CEO, Zvika Peleg, Afula Mayor Avi Alkabetz; Deputy Mayor Habib Peretz, and Afula Municipality Education Director Tina Waldman paid a joint visit to the Oren Education Campus in Afula, where they inaugurated the new Innovation and Creativity Center established with support from the Paula and Jerry Gottesman Family Foundation and Friends of Israel Sci-Tech Schools (USA).
The Paula and Jerry Gottesman Family Foundation have been dedicated to Israeli education. Their support of Friends of Israel Sci-Tech Schools is creating new spaces that improve student learning and successful outcomes as well as positioning the school in the community as an innovative and dynamic school environment.
The school has 1,000 students and for nine years, the school's teachers have received a Ministry of Education award for their educational achievements in the field of education, values, ​​and society.
The school has unique pedagogical initiatives which include:
The school operates iSTEAM pedagogy focused on developing an entrepreneurial and innovation-focused and multi-disciplinary mindset in everyday academic activities. This includes a combination of art, technology, and learning through project-based-learning and creative thinking
"Personal Friday" – a learning system that contains components of choice and support for school students
The establishment and maintenance of an orchard in the schoolyard according to the principles of sustainable agriculture while multidisciplinary learning, used as an edible garden and "laboratory" for experiments, and student scientific research
Sparks – acquaintance and experience of school students with different professional fields and diverse activities, which can be a significant inspiration for an internal search of the "spark" – for the development of motivation and potential, which will affect the realization of their future identity
Comments- training students in medical systems group
In her review, the school principal shared the staff's pedagogical, emotional, and managerial insights from the Corona period. Later, the guests heard about the way in which the training of medical students is integrated into lesson systems, and dialogue was held with the educational staff and students at the Innovation Center on Educational Initiatives and Innovation.
To learn more about Israel Sci-Tech School's commitment to renovating every school through the lens of 21st-century project-based-learning, entrepreneurship, and innovation, please visit https://www.israel-scitech-schools.com/pioneering-models/renovated-spaces/