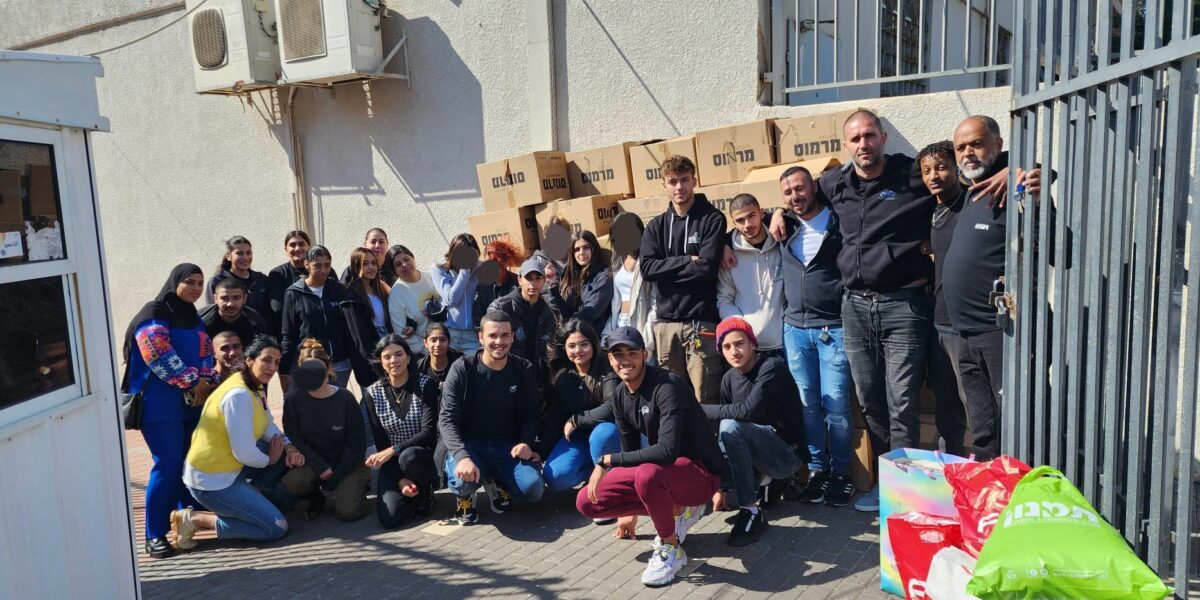 Students of Israel Sci-Tech High School in Akko collected equipment from all the settlements of the region for the victims of the Turkish earthquake disaster. Students of Kfar Noar Manof joined them for sorting and packing, and together they delivered ten tons of coats, blankets, and clothes for children, to Ben Gurion Airport.
School principal Eyad Saleh said: "The initiative to help the victims of the disaster emerged naturally," says Saleh, "from our very clear and cohesive concept of education, a concept that has clear components of humanism and world fixing. We always respond to the reality in the field, and try never to stand by – it's the worst there is. Throughout the last year, we have worked to help refugees from the war in Ukraine and now we are focused on the story of Turkey. "Maybe it's a drop in the ocean, but at least we'll know our drop will arrive". The response from every direction to the initiative was exciting, the whole school has begun to look like one big container of supplies."
Exciting and effective cooperation between Arab and Jewish youth for the victims of the earthquake noise in Turkey – students of Ort Akre Brigade High School and students of the crane youth village near Acre joined together to collect donations and equipment for the victims of the earthquake.
Last weekend, the Akko Arab High School announced a fundraising campaign for the victims of the disaster. "We posted on Facebook and in WhatsApp groups and the response was simply overwhelming," says teacher Asher Isa, who coordinated the project, "Throughout the last few days, until now, we have received a huge amount of blankets and coats in various sizes, which is what was needed there and asked to be passed on, and also clothes for small children, that in a special arrangement will be delivered to orphanages. Everyone opened their hearts – we received donations from residents and business owners in Akko and many nearby settlements in the area – Jedida Makar, Jish, Kfar Yasif, Mazraa, Tamra, Sakhanin, Araba, Nahariya and more. And of course, also from our students and their families.
On Sunday, all the students of the school engaged in sorting and packing, and on Monday, students from the Manof Youth Village joined them in the intensive action. As stated, in total, the Arab and Jewish youth packed ten tons of equipment, which was moved to a central collection point in Haifa and from there delivered to Ben Gurion airport for the flight.
The cooperation between Jewish and Arab students is not accidental and not one-off, but takes place within the framework of a wider project called to get to know each other in-depth and to co-operate between schools from both sectors.
To learn more about innovative Sci-Tech pedagogy, please visit https://www.israel-scitech-schools.com/.