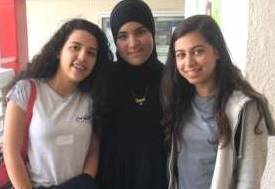 A cross-cultural dialog at Sci-Tech between Jewish students from Holon and Arab students from Ramla
The Sci-Tech Israel network promotes a vast range of activities addressing the coexistence among the different ethnicities comprising the Israeli society, by creating cooperative frameworks for involvement with and contribution to the community. The diversity of the student population in the Sci-Tech network provides an opportunity to advance dialog and mutual social action in an afford to build social partnerships and solidarity among these groups. In recent years, different events have been held in this area, such as regular meetings between educational staff and Jewish and Arab students in schools of the network. This is the seventh year of the Coexistence project, led by Ortov, the Sci-Tech department of social education, implanting the values of tolerance and giving among students of the Sci-Tech schools in the Arabic language. Its purpose is to engender a dialog and coexistence in the Israeli society by:
Creating a dialog between students around issues of coexistence in the framework of network leadership programs.
Encouraging peer teaching and joint activities between groups of volunteers from the Jewish and schools after graduation.
Promoting joint projects for Arab and Jewish students in mixed cities, which are part of the municipal agenda.
As part of the project, students at the Sci-Tech Holon school hosted their peers from the Sci-Tech Ramla Arab school. The event was held mainly in Hebrew, along with an Arabic-speaking instructor who accompanied the students from Ramla. The activities were led by instructors from the BINA Movement for Social Judaism.
At the end of the day, it was clear that a connection between the counterpart educational staff and the students had been strengthened. One of the students summarized the event in these words: "experience, friends, new, fun."