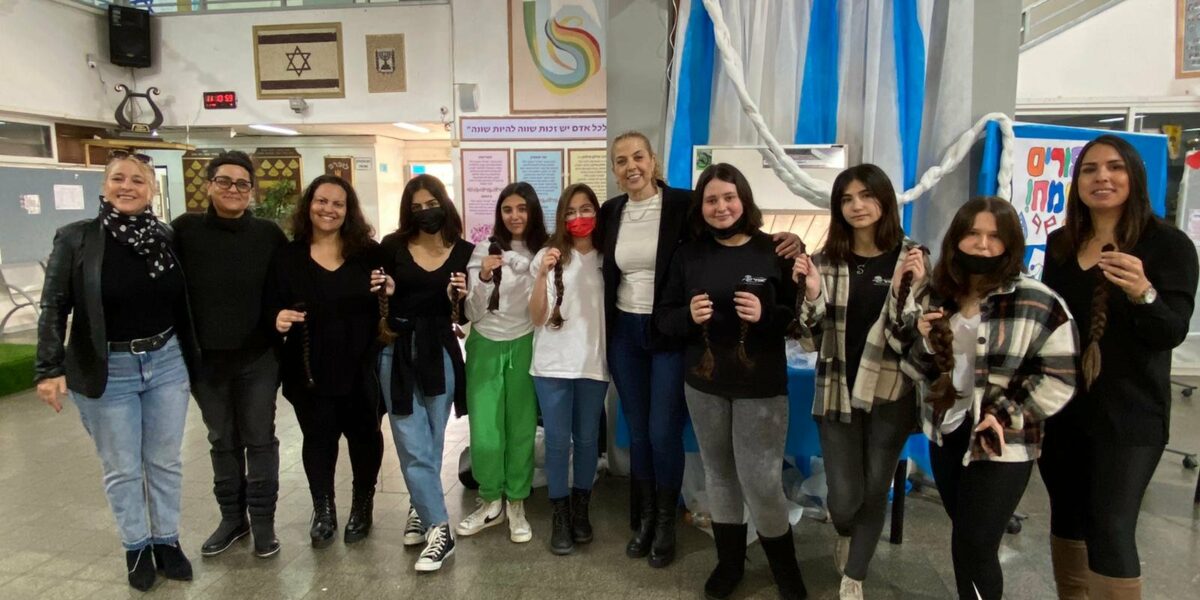 11th-Graders at Israel Sci-Tech Amirim School in Beit Shean, Organize a Hair Donation Day in Support of Cancer Patients
Teacher Roni Saadon, together with the courtesy of local hairdresser Gali Segev launched the program at Amirim School in Beit Shean, and within an hour, 9 hear-braids were donated by the school teachers and students.
The donation will be given to the "Wig for Every Woman" organization, which gives free wigs to improve the quality of life of women in chemotherapy treatments due to cancer. 9th-Grader, Shahar Bitton said, "I knew I had the opportunity to give something that would mean a whole world to other girls so I jumped on the opportunity, one of my best decisions".
Teacher Roni Saadon, who developed the concept added, "This is shortly before the holiday of Purim, a month of giving and joy. Knowing that I can help women in need of a wig is a great privilege for me.  I engaged my 11th-Grade class and the charming Gali, Segev, an expert hairdresser who immediately volunteered to come and tell the girls. A few days ago we shared the project with all the classes, explained the possibility of getting a haircut and who would benefit, and we hoped that the answer would be strong. I couldn't believe the number of those interested and the enormous excitement the project developed. I am proud of them and there is no one happier than me on this day. I'm sure they won't forget him and so will the rest of the students who watched and appreciated what was happening. I have a feeling that another wonderful tradition of giving to the Amirim school community. Thank you for the privilege".
OrTov leads the Networks' social and character values educational efforts in helping schools implement programs for student social involvement and volunteering. Teens throughout Israel are involved in social responsibility and contributing to the community, shared society programming with Arab teens, strengthening multigenerational bonds, raising awareness of the environment and sustainability, relieving the loneliness and isolation of Holocaust survivors, and so much more.
To learn more about OrTov, please visit https://www.israel-scitech-schools.com/values-volunteering-leadership-programs/.